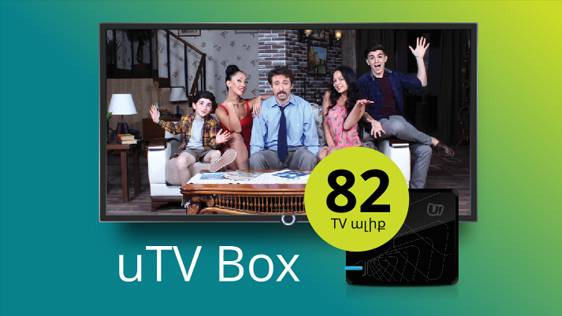 Ucom Offers Subscription to uTV Box OTT-Television
27/11/2018
Ucom offers subscription to uTV Box Regional and uTV Box for everyone OTT television service, within the frames of which the residents of those regions and settlements in Armenia, which do not have access to Ucom's fixed internet service, may still enjoy the TV-channels brought by Ucom. In particular, the residents of Armenia's regions, by subscribing to uTV Box Regional service for 12 months, will be able to watch 70 TV-channels at the monthly fee of 2700 AMD only. To benefit from the service the receiver device is provided without any charge, and it may be self-installed.
"The subscribers will have 2-day Catch-Up possibility and will be able to use the uTV Box service, in case there is at least 3 Mb/sec internet access at the place of use. Moreover, the existing and new subscribers of Ucom's fixed internet service can join uTV Box to easily and affordably solve the problem of the second TV-set at home", said Hayk Yesayan, the Co-Founder and Director General at Ucom.
All viewers wishing to use uTV Box for the second TV-set, or living in Yerevan and having no access to Ucom fixed services, can subscribe to uTV Box service for 12 months and enjoy watching 82 TV-channels at the monthly fee of 4000 AMD only. Let us add, that in this case the subscribers will have a possibility to manage the broadcast stream and watch the specialized Armenia Premium TV-channels.