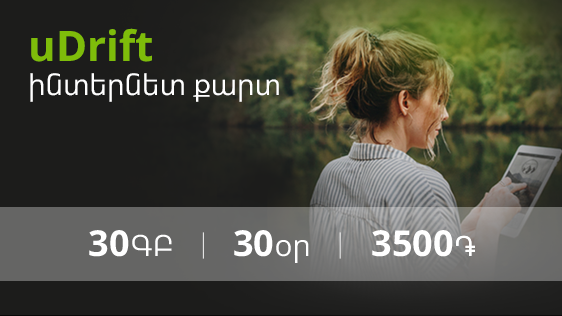 Ucom Offers a New uDrift 3500 Mobile Internet Tariff Plan
22/03/2023
Ucom offers joining the new uDrift 3500 prepaid mobile internet tariff plan and receive 30GB of the high-speed internet at just 3500 drams per month.
The existing subscribers of the current uDrift tariff plans can dial *111*6# or simply send the "3500" keyword to the 111 short number from their mobile modem interface. By the way, right after the consumption of the inclusions or the expiration of the 30 days validity period, the bundle of gigabytes will automatically be reactivated as long as there are enough funds on the account.
"The updated offer, as always, will be of interest especially to those of our close ones, who pay visits to their homeland, as well as the tourists, who by joining the uDrift prepaid mobile internet tariff plan will get many gigabytes on favorable terms only in the months of their choice," mentioned Ralph Yirikyan, Director General at Ucom.
Let us add that in order to join and activate the tariff plan, one should visit one of the Ucom sales and service centers.