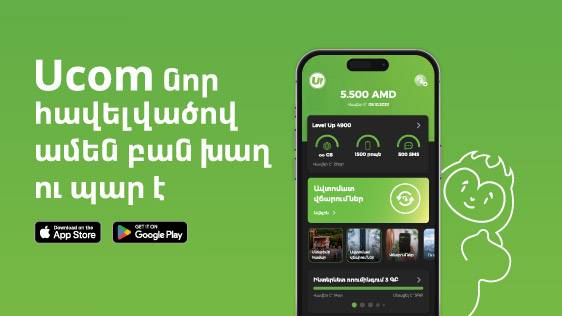 Ucom: New App, New Features
15/03/2023
New and existing subscribers of Ucom's both individual and corporate mobile tariff plans can now benefit from the updated version of Ucom mobile application by downloading it either from the App Store or Google Play. Ucom mobile application enables users to easily and quickly manage not just one but several Ucom accounts from a smartphone, see current tariff plans and their inclusions, manage active bundles or switch to a better tariff plan with enhanced features, attach banking cards and quickly top up the required account, as well as configure the settings for an automatic top-up of the attached user accounts.
The updated version of the application features a distinctive and well-organized design, has "Light" and "Dark" modes. Time-thrifty users can independently analyze their expenses, even look through the list of the outgoing calls for a period of up to 2 months, and in cases requiring clarification, study the frequently asked questions' list or chat online with a Ucom specialist. If there is still any need to visit one of the nearest Ucom sales and service centers personally, the application will be handy to remotely queue at the preferred service center.
"With the updated Ucom mobile application you can also pay for Ucom's fixed services by entering the contract number, and in case of the Unity tariff packages, the main phone number. You just need to download it to fully manage both your Ucom account and those of your close ones, thus saving time and not thinking about going out or standing in the queue", said Ralf Yirikian, Director General at Ucom.
Let us add that the new application will also please the mobile customers when in roaming, as they can compare the tariffs of partner operators in a specific country and choose the most affordable option.