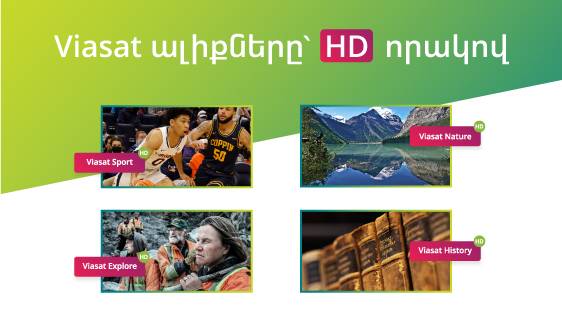 Ucom TV Subscribers to Enjoy Viasat Family TV Channels Again, This Time in HD Quality
12/08/2022
From now on Ucom TV subscribers will again enjoy Viasat History, Viasat Nature, Viasat Sport, Viasat Explore, as well as Русское кино TV 1000, Action TV 1000 and TV 1000 TV channels, and this time already in HD quality. Moreover, Da Vinci Learning has returned to the uTV list.
The well-known Viasat Sport TV channel presents broadcasts of National Basketball Association (NBA), Major League Basketball (MLB), hockey, gridiron (American football), high level boxing championships, extreme sports and car racings. With Viasat History the viewers will explore the history of ancient and modern civilization, see the greatest discoveries, learn about technique and science, sports, music, military life and enterpreneurship. Viasat Nature is for all members of family and will transfer them to the world of dangerous predators, helpless mammals, and wild nature. Viasat Explorer adventurous TV channel will fascinate with its travellings, the diversity of fauna, fast cars, extremal types of sports and disclosures of known crimes.
"Ucom TV subscribers can really enjoy watching the quality TV content with their close ones, without missing any loved program or film. I'm glad the TV channels of Viasat family are now available in HD quality," mentioned Ara Khachatryan, Director General at Ucom.
TV 1000 TV channel showcases the best Hollywood and European films of all times. The grid of this friends and family TV channel includes a multi-genre film library, where anyone will find the movie of their interest.
Da Vinci Learning educational TV channel will also offer to discover the world and get continuous education in different directions.