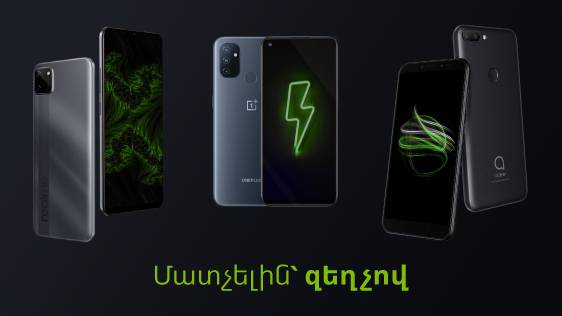 Ucom Offers Affordable Gadgets at Bigger Discount
23/09/2021
As of today, within the framework of the "Affordable Gadgets at Bigger Discount" autumn offer, everyone can purchase a wide range of smartphones of well-known brands at special terms both in Ucom sales and service centers, as well as Ucom's online shop.
From September 23, a 5% discount is applicable to all smartphones, as well as accessories worth more than 30 000 drams in case of cash purchase. In particular, in case of buying the Alcatel 1S (released in 2021) in cash, the buyers will pay a 5% discounted price of 58 800 drams; moreover, they will receive TWS Hiper Oki wireless earbuds as a gift. The Realme C11 2021 will be available for just 56 905 drams.
From September 24, all OnePlus gadgets will be discounted by 10%, and in case of cash purchase – by additional 5%. Eventually, the price of OnePlus Nord N100, for example, will be 75 240 drams.
"At Ucom we offer smartphones and devices for buyers of any budget. Hurry up to take advantage of this offer and upgrade your gadgets by purchasing the latest smartphones of even higher quality, better performance, richer palette, more powerful battery", said Ara Khachatryan, Director General at Ucom.
Let us add, that when processing the credit for 36 months, the buyers will be provided the privilege of 0% prepayment, 0% annual interest rate and 0% of the service fee during the first 12 months.