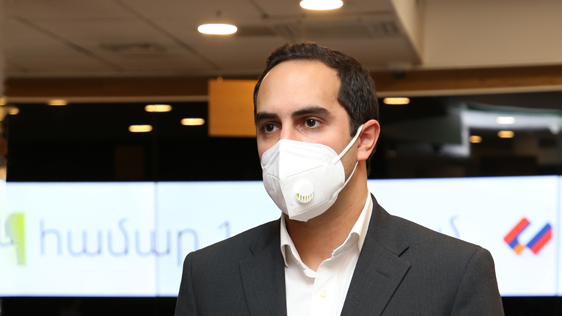 The Director General at Ucom Summarized the Passing Year
23/12/2020
During the briefing today, Ucom's Director General Ara Khachatryan summed up the year of 2020, noting that it was a complicated one, both for the global and Armenian business entities. As a strategic economic entity, Ucom first had to adapt to the COVID-19 situation, which the company executed with excellence. Moreover, some of the sales and service centers (Ashtarak, Alaverdi) were honored for their responsibility in observing the anti-epidemic rules and precautions.
April was followed by the internal crisis situation within the company, which was overcome with the joint efforts and support of employees, customers and partners. The war, undoubtedly, gave the biggest hit to all businesses.
"Ucom, like any family, has had its losses, the most painful of which is the loss of knowledgeable, skillful, young professionals," said Ara Khachatryan.
Nevertheless, acknowledging the imperative of the day, the company focused on educational projects. Within the framework of numerous projects, including the ones executed together with "Save the Children", "SOS Children's Villages", Armenian Charitable Foundation, "Bridge of Hope" NGO, "Teach for Armenia" Educational Foundation, Ucom has provided various communication services and gadgets. In addition, the company has partnered with the Ministry of Education, Science, Culture and Sports to provide free access to dozens of educational resources to all subscribers of the company.
Ucom also tried to support a number of small and medium-sized businesses in Armenia, by telling subscribers and followers about them. The project was called #թևութիկունք. A part of the company's marketing, financial and human resources has been invested to implement this project.
The Director General of the company also spoke about the upcoming plans for 2021. In the next year, it is planned to completely upgrade the mobile network, so that in the years that follow the company will be ready for the full operation of the 5th generation network (5G). Already in January, 2021 fixed service subscribers will see a significant change in the quality and stability of the services provided. The company, with a renewed team, is also going to come up with competitive commercial offers.
At the end of the briefing, Ara Khachatryan reminded that at the moment there are offers for both mobile and fixed service subscribers, as well as the opportunity of applying for online credit at the Ucom online store.
"I wish all of us a peaceful and good 2021. Off to work," said Ara Khachatryan, Director General at Ucom.