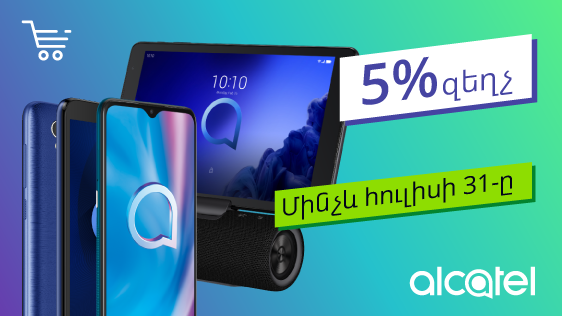 5% Discount Available on All Alcatel Gadgets at Ucom's Online Shop
18/07/2020
Until June 10, all Alcatel smartphones and other devices can be purchased with a 5% discount at Ucom's online shop.
Those who plan to buy a new smartphone can do so with a small or medium budget by choosing any of Alcatel 1, Alcatel 1S, Alcatel 1V, Alcatel 3V, Alcatel 3X smartphones. When buying any Alcatel smartphone, the new and existing mobile subscribers of Ucom's uPrepaid and Universal / Universal Plus postpaid voice services will receive additional GBs for 2 years in a row without any commitment. In particular, the subscribers of uPrepaid service have the opportunity to get up to 10 GB of mobile internet, and those of Universal / Universal Plus postpaid service can get up to 65 GB.
"Ucom's Postpaid Universal/ Universal Plus service subscribers will be able to download uMediaroom mobile TV application and enjoy 55 multi-genre TV channels on their new smartphones without having to pay for the internet traffic they used," said Ara Sergei Khachatryan, Director General at Ucom.
It should be added that at Ucom's online shop one can also buy Alcatel tablets and uKid smartwatch-phone with a 5% discount.