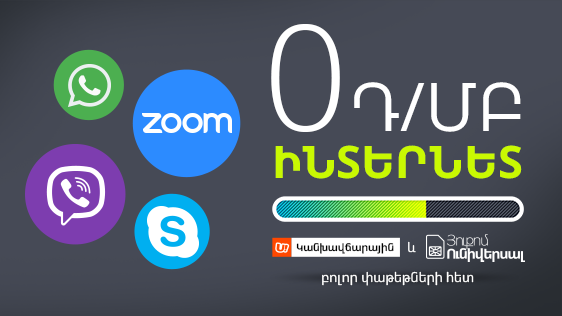 UCOM MOBILE SUBSCRIBERS TO USE DISTANCE LEARNING TOOLS WITHOUT PAYING FOR THE INTERNET
08/04/2020
From April 8 to May 31, all subscribers of Ucom postpaid (Universal, Universal Plus tariff plans) and uPrepaid services will be able to use a number of distance learning sites and apps without paying for the data traffic consumed.These apps and sites are www.zoom.us and Zoom app, Skype, Viber and WhatsApp, www.armedu.am, etwinning.net, kahoot.org and emis.am sites.This is done within the framework of Ucom's corporate social responsibility and cooperation with the Ministry of Education, Science, Culture and Sport aimed at promoting distance learning throughout Armenia.
"Ucom attaches great importance to quality education, and during these days many of our employees provide voluntary assistance to the schoolchildren living in regions to effectively organize their distance learning process. And by the way, thanks to this offer, even the subscribers of uPrepaid 1000 and 1500 tariff plans get the same opportunities for online learning and communication as subscribers of other tariff plans by paying only 1000 or 1500 AMD. Ucom realizes that now more than ever, people should continue to get online education and keep in touch with both their loved ones and partners, and that is why we have made this customer-oriented decision," said Hayk Yesayan, Co-Founder and Director General of Ucom.
It should also be noted that during these days Ucom's prepaid SIM cards can be purchased with uSimple tariff plan at all operating kiosks of "Armenpress" and Haypost offices. When buying a card, the buyer must present an identity document and pay 1000 AMD, which will be fully transferred to the subscriber's balance. To benefit from the offer, users will need to switch to one of uPrepaid tariff plans by dialling the corresponding activation code - *254# for u1000 tariff plan, *251# for u1500 tariff plan, *252# for u2000 and *253# for u3000. By the way, once the card is activated, Ucom services can be managed via Ucom app and activation codes.
It should also be reminded that Ucom's prepaid cards as well as smartphones, tablets and remote controls can first of all be be purchased online - at Ucom's web shop. Delivery is available only in Yerevan and a number of regional towns.