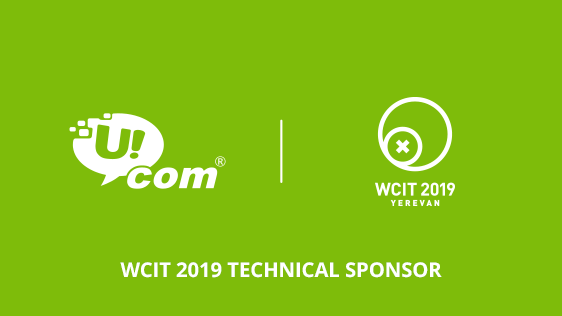 Ucom is the Technical Sponsor of WCIT 2019, the World IT Congress to Be Held in Armenia
30/09/2019
Ucom is the technical sponsor of WCIT 2019, the World IT Congress to be held in Yerevan on October 6-9, 2019. The WCIT 2019 is held under the slogan "The Power of Decentralization". The Congress is hosted by Armenia with the support and under the high patronage of the Government of the Republic of Armenia. The World Congress on Information Technology (WCIT) was established by the World Information Technology and Services Alliance (WITSA). Its main organizing body is the Union of Advanced Technology Enterprises (UATE).
Hosting the world's most important IT event in Armenia has been made possible thanks to the efforts of Ucom's Co-Founder and Development Director Alexander Yesayan, who is also a member of WITSA Board of Directors and UATE President.
"The outcome of the negotiations was announced back in October 2016, when Ucom-sponsored "Armath" Engineering Laboratories won the "Sustainable Growth" nomination at WITSA Global Excellence Award ceremony in Brazil. The award ceremony is traditionally held in 6 nominations within the frames of the WCIT Conference, organized by the World Information Technology and Services Alliance (WITSA)", said Hayk Yesayan, the Co-Founder and Director General at Ucom.
WCIT is to attract over 2,500 participants from over 70 countries including the leaders of the IT industry, CEOs, investors, distinguished speakers, policy makers, government officials, scientists and technologists.