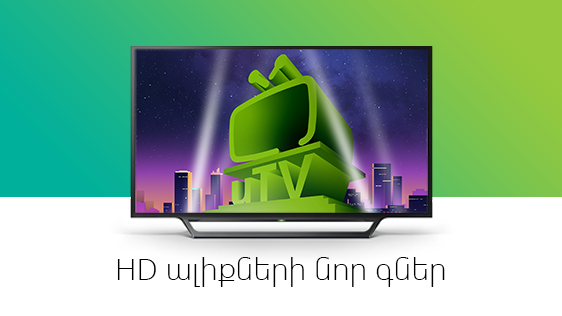 uTV HD CHANNELS PRICE CHANGES
24/07/2019
From August 1, changes will be made to the price list of Ucom TV HD channels. In particular, when choosing Discovery Channel HD, Nat Geo Wild HD, National Geographic HD, ViP Megahit, ViP Premiere channels, uTV subscribers will pay 450 AMD a month instead of the previous 600 AMD. The monthly fee for Setanta Sport HD and Setanta Sport Plus HD sports TV channels will be 300 AMD instead of the previous 280 AMD.
"I am sure that it's good news for all movie fans, music fans and fans of adventure video content who prefer HD quality channels of Ucom. By the way, in August we plan to reshuffle the list of our TV channels, thus offering a new and quality video content to our subscribers," said Hayk Yesayan, Co-founder and Director General at Ucom.
It is also noteworthy that as of August 1st, 2019 the Russian Travel Guide HD TV channel will be available to the fans of TV tours at almost a half price, i.e. 180 AMD instead of the previous 350 AMD. Music fans will enjoy MTV Live HD at only 220 AMD monthly fee instead of the previous 350 AMD, and those who prefer ViP Comedy channel will pay 220 AMD instead of the previous 150 AMD.