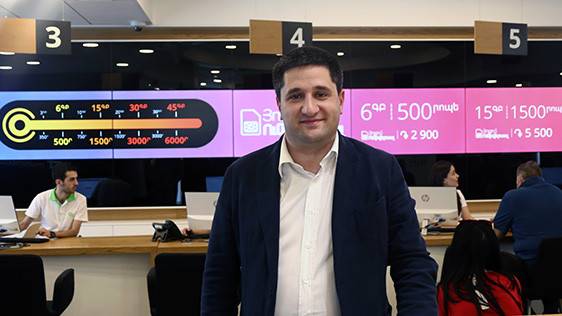 Ucom Came Up with Summer Offers for Its Mobile Customers
12/06/2019
At the briefing hosted by the Co-founder and General Director of Ucom Hayk Yesayan, the latter presented Ucom's summer offers for company's mobile customers.
In particular, the subscribers of Universal and Universal Plus postpaid tariff plans have the opportunity to enhance warmth of communication paying the same monthly fee and receiving up to 45 GB of mobile internet and up to 6000 minutes to call all local networks, Artsakh, USA and Canada. It should be noted that the volumes of minute, SMS and MB inclusions of these tariff plans have almost doubled. By the way, the subscribers of Universal Plus tariff plans can use minute inclusions to also call all networks of Russia.
Moreover, existing and new subscribers of Ucom Universal and Universal Plus tariff plans can watch 55 multi-genre TV channels on Ucom Mobile TV even outdoors by activating uMediaroom app for free. Mobile TV supports Catch-up feature for 2 days. And most importantly, not a single megabyte will be consumed while enjoying TV-services, and after consumption of the inclusions, subscribers won't be charged for the megabytes used.
"We have also reshuffled and doubled the volume of mobile internet made available with our uPrepaid service. Currently, new and existing subscribers of u1000, u1500, u2000 and u3000 prepaid tariff plans will also have doubled volume of gigabytes in addition to unlimited calling possibilities available to all mobile subscribers of Ucom. Today, when the world has moved to online communication, as a customer-oriented Armenian operator, we are obliged to revise the volume of our internet services provided to our subscribers and offer a solution with the best price-quality combination," noted Hayk Yesayan, the Co-founder and Director General at Ucom.
In addition to the above-listed opportunities, those Ucom mobile subscribers who plan to travel to Europe this summer, in particular, to Greece, Cyprus, Italy, Spain, France or other popular seaside destinations such as Georgia, Egypt or the UAE, can activate one of the "Internet in Roaming" bundles and enjoy a more affordable roaming rate starting from 6.4 AMD per 1 MB. Subscribers simply need to dial the activation code which is *121# before leaving Armenia, activate roaming service and by following the instructions choose one of the bundles offered by Ucom. And if the roaming service is already active, they will just need to dial the activation code of the relevant bundle.