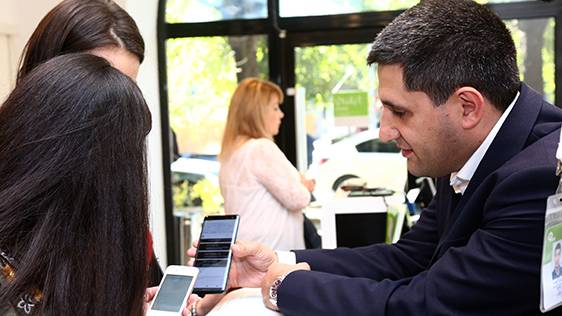 Ucom Management in Ucom Service Centers
23/10/2018
On 17-19 October, Ucom management, headed by the General Director Hayk Yesayan, have paid visits to Ucom service centers located in both Yerevan and regions, worked with the local sales staff and communicated with customers. The management and back-office staff, a total of 55 employees, which are not in direct contact with customers, had the chance to communicate with customers and sales staff and listen to their problems and concerns.
"In this way customers feel that not only the front-office staff, but also the management of the company wants to be aware of their problems. As for the management, they want to listen to customers, to have deeper understanding of their problems, in order to be able to solve them. Thanks to this initiative, customers feel that they are really at the heart of the company. Besides, the communication with the management creates stronger and emotional ties with the company," shared her impressions Shushanik Ghaltakhchyan, Head of Customer Experience at Ucom.
A range of services, among them Ucom Universal postpaid tariff plan with recently doubled inclusions, were discussed with customers. Thanks to this upgrade of inclusions, every month customers receive more minutes to call all local networks, Artsakh, USA and Canada, more MBs to use mobile internet and more SMSes to send to all local numbers.
"It has been mentioned many times that Ucom is a customer-oriented company, and we may confidently say that today we are the most powerful technically equipped company and provide the best services. However, this is not enough. As a management, having started everything from the scratch and being well aware of every aspect to this business, we feel the need to communicate with both our customers and front-office sales staff. As a result of direct contact them, we learn about their problems and find solutions to them, in order to improve service quality, customer satisfaction and reinforce trust in us," said Hayk Yesayan, Co-founder and Director General at Ucom.
The participants of the initiative emphasized the importance of front-office sales staff, informed them about the upcoming plans of the company and collected feedback to improve the performance of service centers and the quality of services and processes.