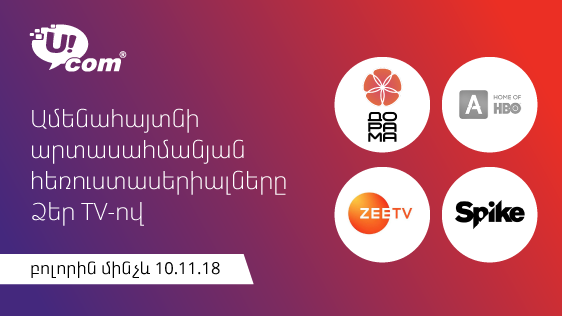 All Ucom TV Subscribers to Enjoy 4 Most Demanded TV-Series' Channels
17/10/2018
From October 10 till November 11 all uTV subscribers, regardless of their subscription type, have the opportunity to watch 4 most demanded TV-series' channels. In particular, the subscribers will enjoy watching Amedia Premium HD, Spike, Дорама and ZEE TV quality TV channels of an original content.
By pressing the 157th button, the TV-viewers will switch to Amedia Premium HD TV-channel, which will transfer its TV audience to the world of the best production of HBO, Showtime, CBS, FOX, STARZ, Warner, SONY, ABC Studios, and BBC. It presents a wide range of popular films like "Game of Thrones", "Sherlock", "Breaking Bad", "True Detective", "Black Sails", "True Blood", "Boardwalk Empire", "Homeland", and "American Horror Story". It's available in Russian and English.
The 127th, Spike TV-channel is designed for those, who are interested in TV-series. Famous and well-known TV-series are presented in different genres. One of the strengths of the TV-channel is the documentary reality shows of own production.
The 135th, Дорама channel in Ucom network, will transfer the viewers to the world of Eastern filmmakers. The program grid is full of Korean, Japanese, Chinese diverse TV-series and movies. All of that can be enjoyed in a high quality translation throughout the day.
The 116th, ZEE TV channel will offer the TV-series, movies and programs of Indian production. Comedies, musicals, dramas and other genre films, the incredible love stories are both for personal and family watching.
TV viewers may add these TV channels to their favorites' list, if they like them.