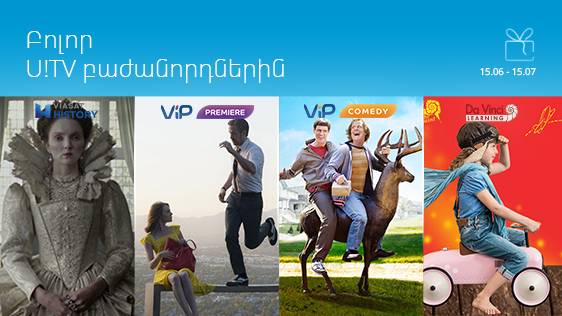 All Ucom TV Viewers to Enjoy Viasat Family Channels
16/06/2018
From June 15 to July 15, all U!TV customers, regardless of their chosen subscription packages, will be provided with an opportunity to watch the most demanded channels of Viasat Family.
Namely, customers will enjoy the quality and original content of ViP Premiere HD, ViP Comedy HD, Viasat History and Da Vinci Learning TV channels.
By clicking the 55th button, viewers will switch to Viasat History channel allowing to discover the history of ancient and modern civilizations, to learn about the greatest discoveries and follow technology and science news, sports and music events, warfare and commercial news.
The 57th Da Vinci Learning channel will help discover the world and develop versatile skills.
The 159th VIP Premiere HD channel is designed for those, who follow cinema news and want to enjoy Hollywood premieres with their close ones.
The 113th VIP Comedy HD offers premium comedies.
TV viewers may add these TV channels to their favorites' list, if they like them.