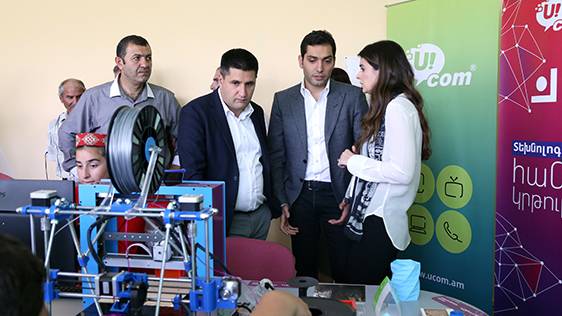 Thanks to Partnership of Ucom and "Teach for Armenia", "Armath" Engineering Laboratory to Operate in Bagaran School
11/06/2018
On June 8, already the 40th "Armath" engineering laboratory was opened in Bagaran village of Armavir region with the sponsorship of Ucom. The programming and engineering classes in this laboratory will be conducted by Vanik Vardanyan, a teacher of mathematics and informatics and a "Teach for Armenia" fellow. As from September, a new participant of "Teach for Armenia" will replace Vanik in this position.
From now on, the two companies will cooperate under the slogan "Technologies for Education". The objective of this partnership is to introduce innovations and high technologies in the remote regions of Armenia, where "Teach for Armenia" fellows are working.
"Recent studies have revealed that Ucom is the most innovative and developing company in Armenia. This result is highly obliging for us; that is why we believe that only by providing conditions for accessibility and distance learning, we cannot achieve the desired result. The opening of the laboratories for the development of engineering thinking from the school age is, first of all, in the hands of advocates of the innovative approach in the field of education. Today, the "Teach for Armenia" fellows stand with us on the path to paving way for innovation through education," noted Hayk Yesayan, Co-founder and Director General at Ucom.
"In this fast-paced world, where high technologies play an important role and contribute to development, it is unjust that children living in remote villages are deprived of developments. "Teach for Armenia" aims to make excellent education accessible to all children in Armenia, and I am happy that thanks to Ucom we can also apply innovations to make education more effective and versatile. This laboratory is only the beginning of our long-term cooperation, the primary beneficiaries of which are our children," said Larisa Hovhannisyan, Founder and CEO of "Teach for Armenia" Educational Foundation.
The Executive Director of the Union of Information Technology Enterprises (UITE) Karen Vardanyan said: "I am convinced that our partners' coherence around "Armath" program will yield particular results. Both Ucom and "Teach for Armenia" invest their positive experience in and contribute to this pan-Armenian educational program, and the more companies consolidate around technological education, the more success we have." Karen Vardanyan also added that the first and successful collaboration of "Teach for Armenia" and "Armath" educational programs with a number of IT companies started still in January, with the establishment of "Armath" engineering laboratory in Norshen community of Artsakh.
It should be added that Ucom and the educational program of "Armath" engineering laboratories initiated by the UITE aim to boost technological education in all Armenian community schools, to promote students' interest in advanced high technologies, the development of engineering thinking from an early age and the preparation of clever students.
Software packages, as well as hardware designs developed in "Armath" engineering laboratories are open to the public. When purchasing software for "Armath" laboratories, preference is given to local producers, a striking example of which is the 3D printers produced in Armenia, mini-computers, robotics sets and other gadgets.