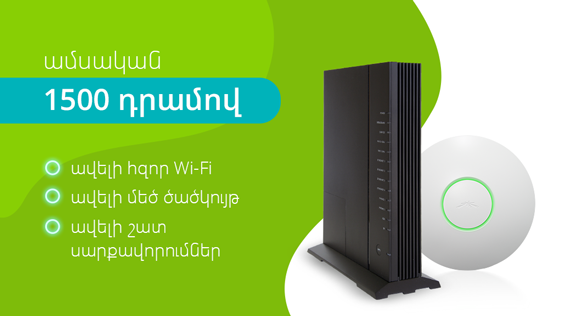 More Powerful Wi-Fi for Ucom Fixed Services Subscribers
07/06/2018
Ucom's fixed services subscribers, namely the U!Net ones, who want to benefit from a more powerful Wi-Fi in their homes, offices, summerhouses, or elsewhere, now have that opportunity. Only at 1500 AMD per month, all those subscribers joining the Premium Wi-Fi service will get either the newest GigaCenter modem by American Calix or UniFi AP Long Range by Ubiquiti. One of the modems provides up to 2.5 times more powerful Wi-Fi and more efficient coverage, while allowing to connect more devices to the internet, and the other one provides a larger radius of coverage.
"This newest Calix modem, for example, has the possibility of carrier aggregation, enabling Wi-Fi to work not only at 2.4 GHz, where the wireless signal is most vulnerable and subject to defects, but also at frequency of 5.8 GHz, which is incomparably less loaded, more efficient, and can provide internet at the speed of up to 600 mbps to more devices. We suggest the customers, wishing to solve the Wi-Fi coverage problem in a large area, the UniFi AP Long Range model", noted Hayk Yesayan, the Co-Founder and Director General at Ucom.
Let us remind, that the carrier aggregation technology was first introduced in Armenia 2 years ago when Ucom launched the 4G+ mobile network. Due to this, the service is provided in a smoother and quality manner.