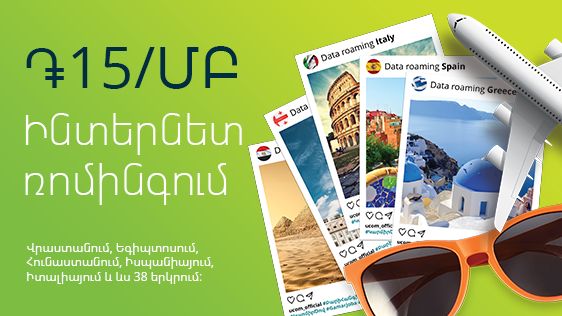 Ucom Subscribers to Benefit from a Special Roaming Rate of 15 AMD/MB in 43 Countries
24/05/2018
Starting from today the customers of Ucom mobile services will enjoy a special rate of 15 AMD/MB for mobile internet when travelling to 43 countries. In particular, those Ucom customers, who have planned to travel to the main touristic directions for their summer holidays, such as Georgia, Egypt, Greece, Cyprus, Italy, Spain, France, Russia and USA may enjoy this wonderful opportunity of staying in touch with their close ones until September 20.
"The mobile subscribers of Ucom do not have to worry when planning their summer holidays, as in the era of emerging OTT-solutions, we understand the necessity of having affordable internet when in roaming. With the assistance of the partner operators of Ucom in 43 countries, we were able to offer such a solution that would not entail astronomical costs for our customers. Affordable roaming is already a reality, simply activate it before departure, by dialing *121#," noted Hayk Yesayan, the Co-founder and Director General at Ucom.
It is worth adding that the 15 AMD/MB rate is applicable in 43 countries when switching to the networks of Ucom's partner operators.
The complete list of the respective operators and countries is available at https://www.ucom.am.