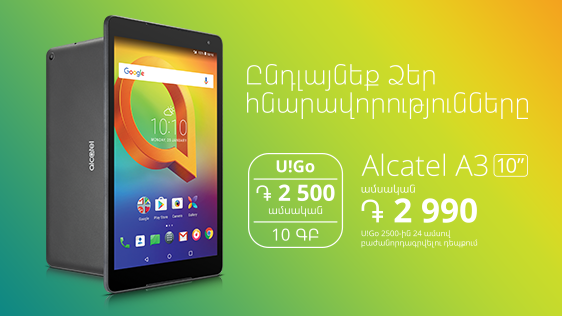 New Tablet with U!Go Mobile Internet Tariff Plans
10/05/2018
Ucom's mobile internet new and existing subscribers without any current commitment have the exclusive opportunity to subscribe to one of the U!Go 2500, U!Go 5500 or regional U!Go 3500 tariff plans and acquire either the Alcatel A3 10,0-inch screen tablet or Huawei MediaPad T3 10-inch screen tablet, by paying for that in equal installments during the period of 24 months.
For example, in case of joining the U!Go 2500 tariff plan for 24 months, in addition to the monthly fee the subscribers will pay the monthly installment of 2 990 AMD only for the Alcatel A3 tablet and get 10 GB of high-speed mobile internet every month.
"We value the opinion of all those customers, who do not wish to overpay the commission, interest fees or make any advance payments, when purchasing a device. The tablet with 2 GB of RAM, quad-core processor and Android 7-based system is a great solution for our customers, looking for optimal combination of an affordable device and high-speed internet," noted Hayk Yesayan, the Co-founder and Director General of Ucom.