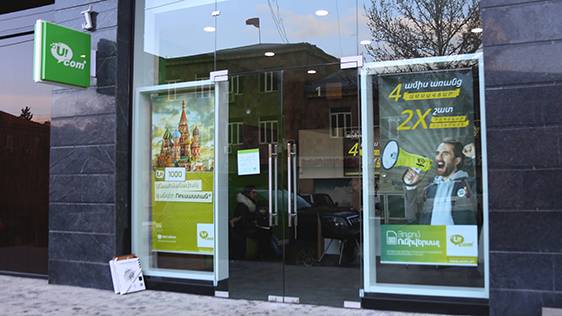 Ucom Sales and Service Center Put into Operation in Agarak
13/02/2018
Ucom sales and service center is already operating in Agarak town situated on the southwest of Syunik region, 2-3 km away from the border with Iran.
"We are delighted that the population of Agarak had got the opportunity to watch quality TV content, as well as to have access to fast fixed and mobile internet and phone services. As you may know, Ucom mobile Internet was recognized the fastest in Armenia in 2017. As an Armenian operator, we are thankful for the trust put in us as a local company, and we will make every effort to make the same services available to all other settlements in Armenia," said Hayk Yesayan, the Director General at Ucom.
"I'm quite satisfied with the quality of Ucom TV, Internet and phone services and now I'm here to extend my subscription agreement," said Hasmik Gevorgyan, who has joined Ucom 2 years ago.
"Everyone is recommended to use this operator's services. Regardless of the chosen tariff plan, the speed is simply amazing," Levon Avanesyan, another loyal customer of Ucom was there to express his satisfaction.
In the words of Ani Baghramyan, the Manager of the sales and service center operating in Agarak, although Ucom services have been available to the population of Agarak since long ago, however, the sales and service center has only now opened its doors to the existing and new customers. Our customers are mainly young and demanding. They believe that the internet should only be high-speed and the TV channels should offer a big variety of quality content. Today Ucom is the very Armenian operator to meet the needs of the most demanding customers.