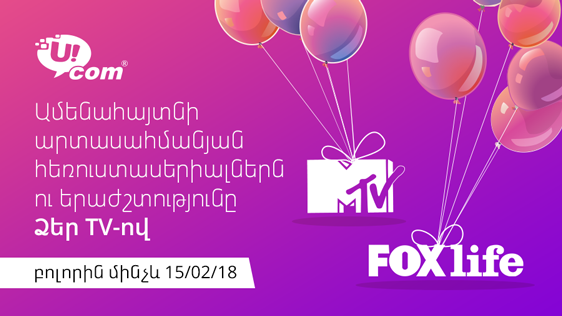 All Ucom Subscribers will Watch MTV and FOX Life
19/01/2018
Till February 15th MTV (89th channel) and FOX Life (121st channel) TV channels will be available for all Ucom subscribers.
In case these channels are not included in a regular TV package or are not taken additionally, then after February 15, upon subscriber's wish, those can be added by paying the corresponding monthly fee of 150 AMD for FOX Life, and 220 AMD for MTV.
To add these channels to the main list there is no need to visit the service center, one should simply call the Customer Care at 011444444 phone number.
Let us remind that MTV youth entertainment channel offers famous TV programs and emissions with the participation of foreign stars. This channel also broadcasts the Russian stars' concert show programs and international music awards.
And the FOX Life TV channel is designed for modern women. The program grid consists of satirical, dramatic, detective and youth TV series, as well as programs about fashion, show business and stars' lives.