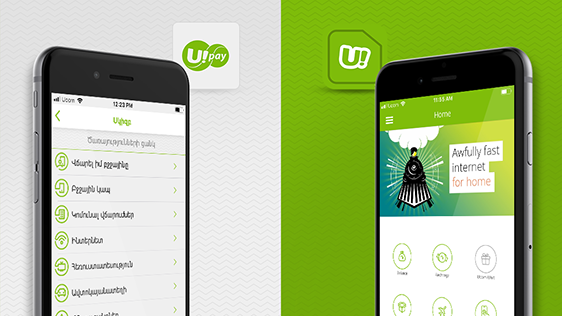 Ucom and U!Pay Application Updates are Released
06/12/2017
In particular, as a result of Ucom application release 8.2, the users will immediately notice some bug fixes and the left-side menu design improvements. The application has been modified for "Universal Plus" and "U!Simple" subscribers, the design of the "Settings" section was ameliorated, the assessment function of the app has become more logical, and new sections were introduced in the left-side menu.
And in the upgrade version 1.3 of the "U!Pay" application the bugs were fixed, a new subsection of "My Vehicles" was added, where the users will automatically be notified about their Road Police tickets and will be able to pay them, by simply inserting the vehicle data just once. A new service has been added, due to which the users will be able to pay for iBolit.mobi's renovation of their mobile equipment.
"Ucom is strictly consistent in upgrading the internally made applications. Not only have we stressed the importance of fixing the bugs and problems raised by the customers, but also increased the number of new features and functions. Our ultimate goal is helping save customers' time and increase their trust", said Hayk Yesayan, CEO at Ucom.
Let us remind, that the applications may be downloaded from the App Store via goo.gl/isSVpa and goo.gl/c3ZaiA links, as well as from Google Play via goo.gl/qU92vA and goo.gl/NV5EGm links.