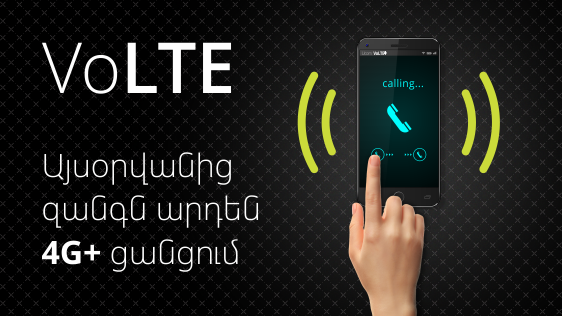 For Ucom Subscribers the Opportunity to Make Calls via 4G+ Network is a Reality Now
01/12/2017
Today, Ucom has launched the VoLTE (voice over LTE network) technology for its mobile subscribers. It takes less than 2 seconds to establish connection via call between phones supporting this technology, while in 3G network it usually takes 6-10 seconds.
"Ucom's technical staff has been working for months to ensure that the company's subscribers are the first in Armenia to enter a new era of communication. The signal is provided from new base stations, which our company has been continuously installing since last year in more than 150 Armenian settlements," said Gevorg Gevorgyan, the Chief Technical Officer at Ucom.
The software of base stations and mobile phone updates will allow Ucom subscribers to fully benefit from all features of VoLTE technology and use new generation multimedia services.
"You no longer need to turn off the LTE network, nor stop transferring high-speed data or browsing websites, even if you are being called. You can continue communicating with your close ones on the internet, watch your favorite program, movie or broadcast via mobile TV and at the same time answer the incoming call. Moreover, during the call the phone can also serve as an internet access point for other devices," detailed Hayk Yesayan, the Director General at Ucom.
In addition, among the key features of VoLTE technology is not only the speed of connection, but also the HD quality of voice.