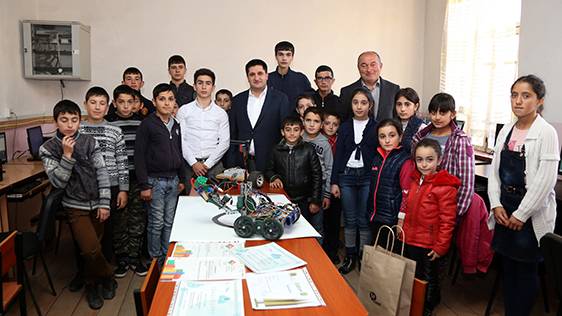 Ucom Director Presented Gifts to "Armath" Students, Who Had Won "ArmRobotics 2017" Competition
04/11/2017
Hayk Yesayan, the Director General at Ucom, presented tablets to the students of "Armath" engineering laboratory in Artsvaberd border village of Tavush region. Having been opened 2 years ago with the support of Ucom, this laboratory and its student engineers and programmers have met the expectations of "Armath" project initiators in this short period of time.
For the 10th jubilee Robotics competition, organized by the Union of Information Technology Enterprises (UITE), the students of "Armath" laboratory from Artsvaberd have designed a robot, which, according to the rules of competition, were to find objects in the competition field, such as cubes, balls and convex polygons, pick them up and move to the place reserved for that robot. Experts assure that the competition, as compared with similar international competitions, is much more complicated. As a result of a 3-month hard work, 12 teams from Tavush, Lori, Gegharkunik and Shirak regions, as well as Yerevan, reached the finals.
Today the award-winning team of 3 members is the pride of Artsvaberd. The prize equal to 700,000 AMD will be used to implement other innovative projects.
"Since an early age I used to take things apart and put them back together again, but now it's thanks to "Armath" that I've started to think about creating things that would make people's life easier. For example, now I'm thinking about designing a solar-powered and fully automated drier facility for our village, where everything from washing, slicing, arranging up to drying of apples should be performed by means of an equipment," Vahagn Zargaryan, a student of "Armath" laboratory in Artsvaberd, shared his future plans.
Vahagn have also designed a smart door model, radio-based devices, as well as assembled a solar battery with his own hands. He has turned his own bedroom into a mini-laboratory: in order to enter his bedroom, one has to enter a special code on a self-made security device.
"For me personally this visit is the most inspirational. If the team of a 16-year old Vahagn participated in the robotics competition held in the USA, he would surely take the first place, as the task given during the Armenian robotics competition was much harder than that of the US competition. "Armath" project is a long-term, project aimed at shaping fundamental and engineering mindset. Its results will be seen in the years to come and it will bring fundamental changes to our education system, which we'll witness in 4-5 years," said Hayk Yesayan, the Director General at Ucom.
It's worth reminding that Ucom is the largest supporter of "Armath" laboratories. Thanks to investments of Ucom, equaling to about 150 million AMD, 39 "Armath" laboratories are now operating in a number of regions of Armenia, including border settlements.