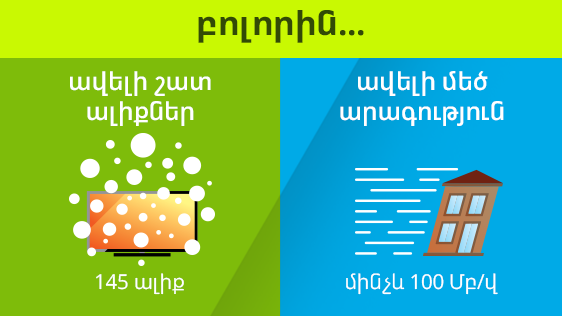 All Ucom Subscribers to Enjoy Internet Speed Up to 100 Mb/sec and Watch 145 TV-channels
23/08/2017
Till September 30, 2017 within the framework of Ucom's special offer all U!TV, U!Net, 3Play, 4Play subscribers will enjoy 145 TV-channels and fixed internet speed up to 100 Mb/sec respectively.
"When coming back to work after vacation period one should be able to quickly cope with all the tasks that can be solved online. And then our subscribers should be able to free their evenings to enjoy watching an interesting movie, program or sports event with their family members, while communicating with one another at the same time. With this special offer, we would like to thank our subscribers for choosing Ucom as the leader in fixed services provision," said Hayk Yesayan, Director General at Ucom.
The internet speed of 100 Mb/sec will be possible to enjoy by connecting Ucom's modem to the computer via wired (LAN) connection, given also the technical specifications of the computer used.
Let us note, that all TV-channels, except HD and adult ones, are available for watching within the framework of the special offer.
Within the framework of the special offer all subscribers of Ucom TV can watch, for example, cognitive TV-channels of National Geographic, Discovery Turbo Extra. Cinema fans will enjoy Paramount Comedy, Кинопремьера, sports fans will have an access to Eurosport and Футбол TV. Ucom's junior audience can watch interesting and adventurous content of Boomerang, Рыжий and Мульт TV-channels. Useful programs for mothers are there on Мама TV-channel, while Доктор will pin to the screens not only those people, worried about their health, but doctors as well.