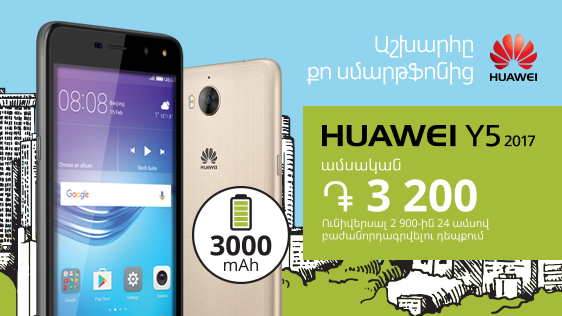 Huawei Smartphone with Powerful Battery is Now Amongst Ucom's Mobile Devices
10/05/2017
The variety of Ucom's mobile devices has been updated with the latest Huawei Y5 4G smartphone, released in 2017. The 3000 milliamp capacity battery will help enjoy the five-inch HD screen and 8-megapixel camera smartphone's work for longer period of time.
This newest smartphone can be purchased both without a subscription at the price of 79 900 AMD, and upon monthly subscription by paying only 3 200 AMD on a monthly basis. It is simply required to join one of the Ucom Universal tariff plans for 24 months.
Let us note, that the gray and golden shades of the smartphone are available, moreover, the quantity is limited.