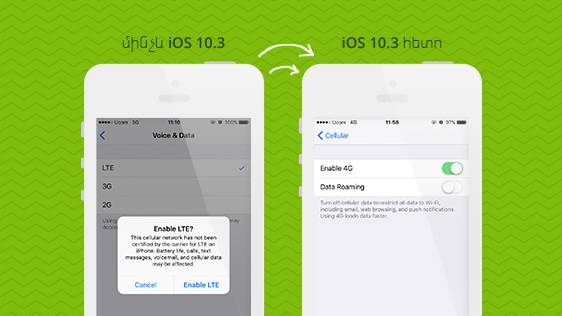 Apple Certified Ucom's 4G/ LTE Advanced Network
04/04/2017
Good news for Apple mobile devices' users. Starting today, Ucom customers using Apple mobile devices' (smartphones, tablets and etc.) will benefit from the only 4G/LTE Advanced network in Armenia, certified by Apple.
LTE Advanced is enabled, for example, on iPhone 5 and later. In order to benefit from Apple certified 4G network customers are invited to update their handsets to iOS10.3. Carrier settings will continue to update for customers over the next few days.
After the update Apple iPhone users, by connecting to the only one in Armenia Apple certified Ucom's 4G network, will not have any problems saving the battery life or issues with calls, SMSes, voicemail and cellular data.
In addition, in an uncertified network the user device's battery life, calls, text messages, voicemail, and cellular data may be affected, hence it is recommended to enable Ucom's 4G/LTE Advanced (see picture).
More about Ucom's 4G/LTE Advanced network can be found here https://www.ucom.am/en/footer/4g-network/