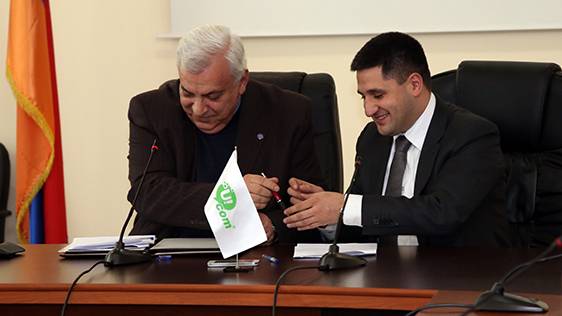 Ucom Computer and Network Technologies Laboratory Opened in the National Polytechnic University of Armenia
16/02/2017
On February 16, Ucom company's director general Hayk Yesayan and Vostanik Marukhyan, the rector of the National Polytechnic University of Armenia, announced the opening of Ucom computer and network technologies laboratory for the students of the university.
The purpose of the laboratory opening is the education and training of future professionals with the aim to recruit the technical staff for Ucom, the company providing fixed and mobile services.
"A Memorandum of understanding has been signed today between Ucom and the National Polytechnic University of Armenia, the first result of which is the opening of the auditorium-laboratory equipped with the modern tools. Our university has to honorably fulfill its mission of being the number one university for preparing the specialists in information technologies. What has taken place today is the best sample of an employer-university partnership", - said the rector of SEUA, Vostanik Marukhyan.
"Today network technology specialists are the most demanded especially in telecommunications sector, and this newly opened university laboratory should serve as a kind of forge for students, who see their future in Ucom company's technical staff. The educational program, currently in place in the university, will help to obtain in-depth professional knowledge and practical skills in the laboratory. All these is a prerequisite for employment in a rapidly evolving telecom sector", - said Hayk Yesayan, the director general at Ucom.
The management of Human Resources and Organization Development Department will soon launch a program, aimed at supporting the graduate students in their first steps of employment, the motto of which is "Become Ucom's voice, face and hand".