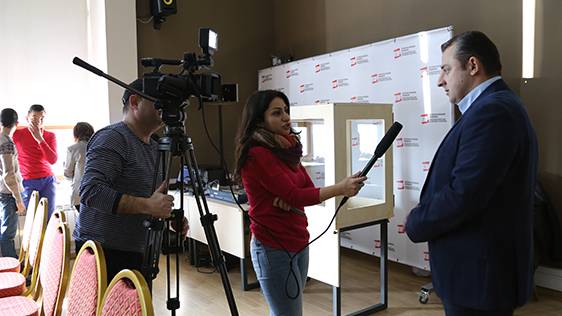 Results of DigiCode Programming Contest Already Known
13/02/2017
On February 11 Gyumri Technology Center hosted the annual DigiCode Applied Programming Youth Contest, initiated by the Union of Information Technology Enterprises (UITE) with the support of Ucom. The main goal of the contest is to encourage and develop algorithmic thinking of schoolchildren, turn them from game consumers into game designers, reveal talented children and provide opportunities for development of their creative abilities.
UITE Chairman Aleksandr Yesayan welcomed the participants of the contest and said: "The development of technological education is one of the strategic directions of the UITE. We always implement educational programs and promotional contests and emphasize the importance of access of all children from Armenia and Artsakh to such programs and contests on an equal basis. And, it's not by chance that DigiCode Programming Contest is held in Gyumri and represented by the schoolchildren from Armenia and Artsakh".
"It's good to see that the students of "Armath" engineering laboratories also participate in DigiCode Applied Programming Youth Contest. It should be noted that Ucom as well contributes to and boosts the formation and development of technological thinking of these children," said Tigran Safaryan, the Marketing and Communications Director at Ucom.
Forty children from 360 participants have reached the finals and competed in "under 13" and "above 13" age categories. They have worked in a Scratch graphical programming environment, developed by the Massachusetts Institute of Technology (MIT).
So, based on the vote of the professional jury, the winners in "Best Game" nomination category in the above-mentioned age categories are Aren Badalyan from Gavar school N 3 with his "Interesting Mathematics" game and Razmik Sargsyan from Gyumri school N 23 with his "Fight for Half" game.
The winners in "Best Virtual Lab" nomination category are Helen Kosoyan from Yerevan Smart City Center with her "Smart Elevator" game and Vahagn Zargaryan from Artsvaberd school with his "Physics Lab" game.
The winner in "Best Idea" category is Aram Khachatryan from Vanadzor school N 19 with his "Katakana" game, and the winner in "Best Design" category is Vahe Asloyan from Vanadzor high school of the State Engineering University of Armenia with his "After World" game. The Promotion Award has been granted to Kolya Margaryan from Tsovagyugh school for his "The Fascinating World of Numbers" game.
For the first time this year the contest has "Armat Award" nomination category. The winners in this category have been determined by video voting of the students of all "Armat" laboratories, operating in the regions of Armenia. So, "Armath Award" has been granted to Sahak Sahakyan from Gyumri Family Center (Help C# to get programmers Love) and Movses Mardanyan from Gandzakar school, Tavush region (Mr. Marvin).
The winners of DigiCode received monetary awards, mobile phones, as well as opportunities for training and participation in technology camps from the UITE, Ucom and Huawei companies.
The general partner of DigiCode is the Enterprise Incubator Foundation (EIF), partner – Huawei company.