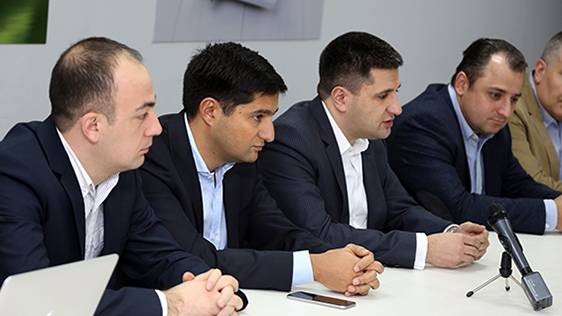 Ucom will Continue Taking Active Steps to Intensify the Telecommunications Market in Armenia
13/02/2017
On February 13, the governing board of Ucom together with the director general Hayk Yesayan have met the Minister of Transport, Communications and Information Technologies Vahan Martirosyan and the deputy minister Boris Demirkhanyan.
The purpose of ministerial visit was the discussion of the telecommunications sphere issues. During the conversation the director general at Ucom presented the results of the technical re-equipment of the last year, the total value of which made 28 billion AMD, and noted that this year another 16.6 billion AMD will be invested to complete the network modernization.
Mr. Yesayan has also stated with satisfaction the fact of close cooperation with the Armenian companies, in particular, for software development, mobile application creation, device designing and creation issues. The company's activities within the scope of the Corporate Social Responcibility projects has also been presented, in particular, within the scope of the educational projects like «Armath» engineering laboratories, where the school-age children learn coding with the help of the Scratch program, developed and applied by the world-known Massachusetts Institute of Technology (MIT).
Among other issues, it was noted that in a result of the partnership agreement between Ucom and Apple the imported goods will have a special code enabling anyone to distinguish the goods manufactured directly for the Armenian consumer.
By the end of the meeting Hayk Yesayan, the director general at Ucom, stated that in parrallel with the overall decline in telecommunications market, he nevertheless considers right to make steps towards own OTT applications creation, such as, for example, the Mobile Television, U!Pay payment system and etc.