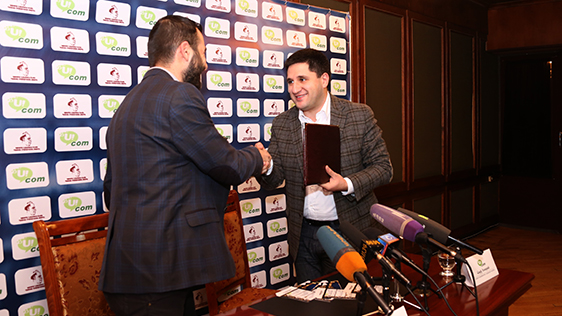 Ucom Cooperates with Gyumri State Drama Theatre after V. Achemyan
18/01/2017
On January 18, 2017 the heads of Ucom and Gyumri State Drama Theatre after Vardan Achemyan have signed a Memorandum of Cooperation.
Within the frames of the Memorandum, the parties have agreed that the amount of one out of the three performances included in 4 separate subscriptions of the only state drama theatre in the region shall be covered by Ucom. Moreover, the subscriptions of the theatre which has now heralded the commencement of its 151st theatrical year will also include the premieres, which has not previously been applied.
"Thanks to the support of Ucom the theater will not only benefit from the internet and telephony services, offered by our company, but also will be able to include the representatives of socially vulnerable groups among its viewers, the number of which varies from 30 to 35 thousand annually", - said Hayk Yesayan, the director general at Ucom.
"This cooperation is really important for us, as the presence of Ucom in the theatre will enable us to significantly increase the number of spectators. One of the most important issues the theatre faces is finding ways to make vulnerable groups a part of the cultural events. The commencement of the green road for Gyumri Drama Theatre and Ucom is announced, and we are convinced that we'll go a long way together"- noted Tigran Virabyan, the director at Gyumri State Drama Theatre after Vardan Achemyan.
Thus, the main theater in Gyumri, on behalf of its 130-member staff, invites everyone to enjoy not only the performances of well-known masters, but also the play of the young actors.