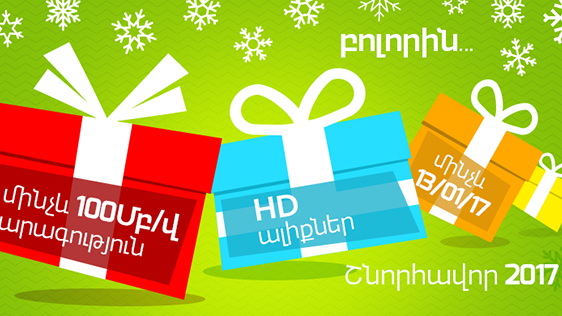 On New Year Eve Ucom Speeds Up the Internet and Opens Access to all HD Channels
16/12/2016
On New Year's Eve, for a period of almost one month, starting from December 16 till January 13, Ucom gives an opportunity to its fixed internet subscribers to enjoy the new internet connection speeds and opens access to all HD channels for U!TV, Triple Play and 4Play subscribers.
Depending upon the tariff plan, the current speeds of fixed internet connection will significantly increase and reach up to 25, 50 and 100 Mb/sec. The mentioned speeds will be possible to enjoy by connecting the Ucom modem to a personal computer via wired option (LAN), yet taking into account the technical specifications of the computer in use.
Let us note, that this pleasant New Year suprise will take effect automatically.