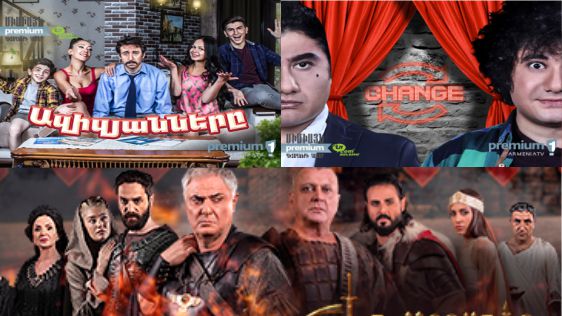 The Megaprojects of Armenia Premium TV-channel Are Available in VoD Section for U!TV Subscribers
16/11/2016
The first episodes of the "The Azizyan Family" and "Change" sitcom, as well as the ones of "The Ancient Kings" multi-episode historical overview, broadcast since October 31 over Armenia Premium TV-channel are now available for watching anytime at all. The unprecedented megaprojects in the history of cable TV in Armenia from now on are accessible for watching in the Video on Demand (VoD) section for U!TV subscribers.
Let us remind that there is a fee of 300 AMD per episode, which are available for premium audience to enjoy within 24 hours upon purchase.
The Ancient Kings TV series is a historical overview of the pre-Christian Armenia, covering the dramatic events that have taken place in the Greater Armenia. The events depicted in the film take place in pre-Christian era, where Tigranes II of the Artaxiad Dynasty, later Tigranes the Great – the King of Kings, was to take the throne. The film focuses on royal conspiracies following the death of Tigranes I. All clothing, household items and elements typical of that era were designed based on advice of ethnographers, historians and archeologists. The roles are played by Jean Nshanyan, Murad Janibekyan, Ruben Muradyan, Shogher Tovmasyan, Arman Nshanyan, Shaké Tukhmanyan, Anna Grigoryan and others. The director of the project is Harutyun Shatyan.
The leading actor in 24 series of the Change sitcom is Hovhannes Azoyan, who appears in 2 roles. In one case he plays the role of a criminal, and in another – an unsuccessful, but honest actor. The focus of the sitcom is the main deal - to be the "change". The honest actor undertakes the most important and complicated role in his life. Other roles are played by Armen Margaryan, Artur Nalbandyan, Mariam Melikyan, Lilit Haroyan, Ani Kocharyan and Ani Petrosyan. The director of the project is Grigor Vahramyan.
The Azizyan Family is starred by Hayk Marutyan. He embodies the character of Garnik Azizyan – a clothes store seller, who is the only one working in the family. Mrs. Azizyan is lazy enough to perform the duties of a housewife. The problems of the father of the family don't bother his 3 children – his daughter, who is internet-addicted and is active in all social networks; his unemployed eldest son, who is a complete loser, and his youngest son, who is a schoolboy. The roles in this sitcom, created for family watching, are played by Ani Lupe, Satenik Hazaryan, Ishkhan Gharibyan, Suren Arustamyan and other popular actors. The project is directed by Arman Marutyan.