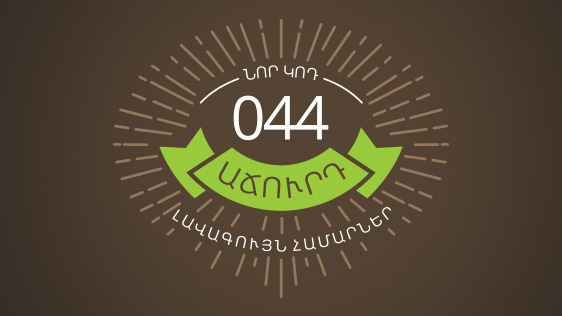 CHARITY AUCTION REGISRATION IS OPEN FOR ACQUISITION OF UCOM'S NEW SPECIAL NUMBERS WITH 044 PREFIX
21/10/2016
From now on it is possible to get registered on 044.ucom.am website and take part in an e-auction of special phone numbers with new 044 prefix, which will be held on November 1-3, 2016. The auction will be organized for 33 special numbers. The list of the phone numbers, their minimum values and the terms of the auction can also be found on the 044.ucom.am webpage.
Let us remind you, that the entire amount raised through the auction will be transferred to Ucom Foundation for the implementation of charitable projects.
«We are hopeful, that the amount raised through the charitable auction will allow us to realize a number of important projects and give hope for the future to a large number of families», - said Ashot Barseghyan, the Director of Ucom Foundation.