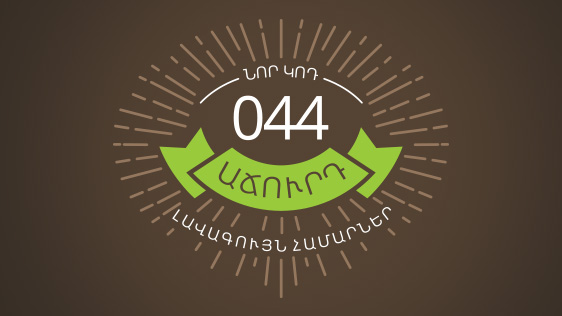 Charity Auction for Ucom Special Numbers
01/10/2016
On November 1-3, 2016 Ucom will organize the e-auction for the usage rights of 33 special numbers starting with 044 prefix on the 044.ucom.am website, created exactly with that purpose (will be on air at least one week prior to the aution).
You can see the participation terms and conditions here.
The entire amount raised through the auction will be transferred to Ucom Foundation for the implementation of its charitable projects.
The auction is organized for the following numbers:
| | | |
| --- | --- | --- |
| 044000000 | 044000003 | 044300000 |
| 044111111 | 044000004 | 044500000 |
| 044222222 | 044000005 | 044600000 |
| 044333333 | 044000006 | 044700000 |
| 044555555 | 044000007 | 044800000 |
| 044666666 | 044000008 | 044900000 |
| 044777777 | 044000009 | 044010000 |
| 044888888 | 044044044 | 044000444 |
| 044999999 | 044004400 | 044444000 |
| 044000001 | 044100000 | 044011111 |
| 044000002 | 044200000 | 044010001 |