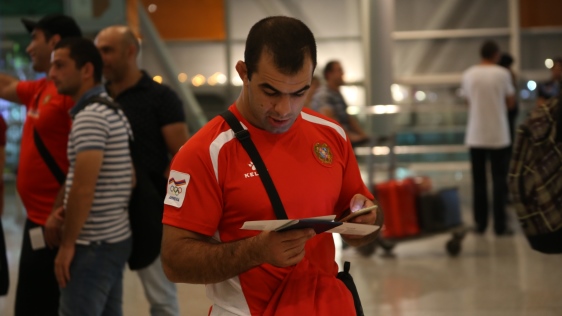 The Last Group of Sportsmen Left for Rio de Janeiro
12/08/2016
With the sponsorship of Ucom the last group of the Armenian National Olympic Team sportsmen has left for this year's Summer Olympic Games capital – Rio de Janeiro.
The wrestlers of the Armenian Olympic Team, taking part in the 31st Summer Olympics,- Arsen Julfalakyan, Arthur Aleksanyan, Maxim Manukyan, Mihran Harutyunyan have already departed via Yerevan-Doha-Rio de Janeiro flight. The wrestlers' team is led by the head coach Levon Julfalakyan, the vice-coaches are Eduard Sahakyan and Samvel Gevorgyan.
The relatives and friends of the Armenian wrestlers had come to see them off.
"We wish endurance to the wrestlers departing to Rio and have great expectations from them", - said Ashot Barseghyan, the head of the brand development and communication unit at Ucom.