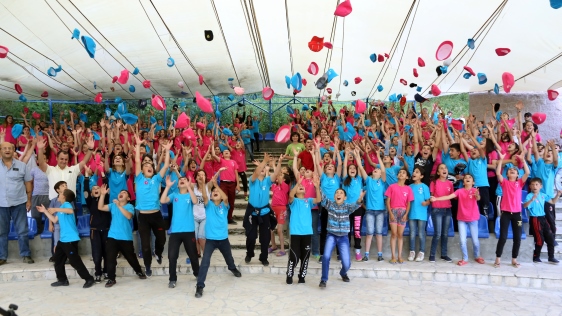 Technological Summer Camp in Hanqavan Bids Farewell to the First Flow of 300 Young Engineers
20/07/2016
The first flow of 300 schoolchildren aged 9-13, bid farewell to the seven-day Technology Camp in Hanqavan. The Summer Camp is organized for 600 schoolchildren by World Vision Armenia, Ucom and Union of Information Technology Enterprises (UITE).
The Technology Camp was attended by children from socially vulnerable regional communities of World Vision Armenia as well as pupils of "Armath" engineering laboratories from regions. In an atmosphere of creative and active recreation 15 teams of the Summer Camp managed to acquire some basic knowledge in robotics, create robots themselves, program them with the help of the "Fox" computer program and demonstrate the ability of their robots to follow the straight line. 13 teams have been able to successfully solve their tasks.
The youngsters from various villages and towns of the Armenian regions have created a three-dimensional (3D) printer, which was presented to the Vank village school of Artsakh on behalf of 300 participants of the Technology Summer Camp.
The young engineers of the Technology Camp took active part in cognitive trips throughout Armenia, as well as in swimming, football and volleyball competitions.
"We are happy and excited that children from socially vulnerable families and the pupils of the regional "Armath" engineering laboratories have a possibility to share engineering skills with one another. This Camp is a good example of our company's conviction, that regardless of the social status, the education and knowledge are the best foundation for any important endeavor of a man. As an Armenian company, Ucom shall always be supportive of such projects, which display the potential of our joint efforts, but tomorrow those shall be the basis for the technological progress in Armenia", - said Tigran Safaryan, the Director of Marketing and Communications at Ucom.
Aida Muradyan, the head of child protection and education programs at World Vision Armenia, noted: "The World Vision has been organizing summer camps for children for many years. We believe that this year as well children will take home bright memories and impressions alongside with the new knowledge and skills in engineering".
Karen Vardanyan, the Executive Director at UITE noted, that the establishment of the engineering laboratories in all schools is the knowledge phase. The knowledge shall be followed by practical cooperation between the children, the basis for which is the operation of such camps.