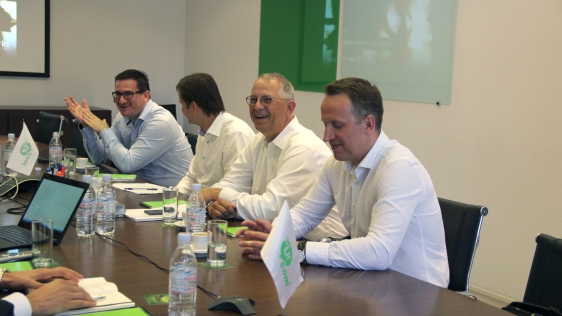 The Introduction of Ericsson's 4G+ Technology into Ucom's Networks Approaches the Final Stage
06/07/2016
Recently Jan Wäreby, SVP, Head of Sales, Wojciech Bajda, Head of Customer Unit Eurasia, which covers 11 countries (Belarus, Ukraine, Mongolia, Armenia inclusive) and Peter Laurin, the Head of Region Northern Europe and Central Asia paid a working visit to Yerevan.
The honor to introduce Ucom's 4G+ network is entrusted to Ericsson, which is being represented in 180 countries all over the world. The launch of cooperative work was announced in March, and now both companies approach the final stage of project implementation.
According to the top-managing representatives of Ericsson, the Armenian telecommunications market is considered to be one of the advanced as per world standards. They are excited to provide the Armenian Ucom with a technology, introduced in such leading markets like North America, Korea, Japan, some parts of China, and, of course, the telecom markets of some European countries.
«Out of 11 countries I have in my portfolio, this is the first implementation. It's a very unique technology from the hardware and software point of view, which secures high performance of the network, superior quality and user experience», - said Wojciech Bajda, Head of Customer Unit Eurasia at Ericsson.
Speaking about the landscape and associated with that complications with introduction of the latest «Ericsson's Radio Solution», Mr. Bajda expressed confidence that they can quite easily provide good coverage and good capacity for Ucom subscribers in the country, regardless if this is a city, or a small village, or the mountains. According to him Armenian landscape is not as challenging as many mountainous countries in Asia or deserts of Africa, where the network introduction is far more complexed.
«We are here from Ericsson to visit the Armenian market and also to be part of the success of Ucom, when they now launch the next generation network. It's a very advanced network, we have the latest technology, enabling this network, not only from sort of 3G, 4G, but also advanced LTE - with the carrier aggregation as well as the air antennas - which is our latest and greatest product», - said Peter Laurin, the regional Head from Ericsson for Region Northern Europe and Central Asia.
The guests have also expressed great satisfaction with the technical staff performance, which installs and puts into daily operation the internationally designed equipment in a professional way.
«In September we will witness the fact of how one can have an Armenian company, delivering global level quality services within Armenia. Our technical staff is well-trained, during the entire period they have astonished their international counterparts with an exceptional professionalism. I can state with satisfaction, that it is thanks to our technical staff, Armenia amongst all post-Soviet countries is the first to introduce this innovative technology solution», - said Hayk Yesayan, the CEO at Ucom.