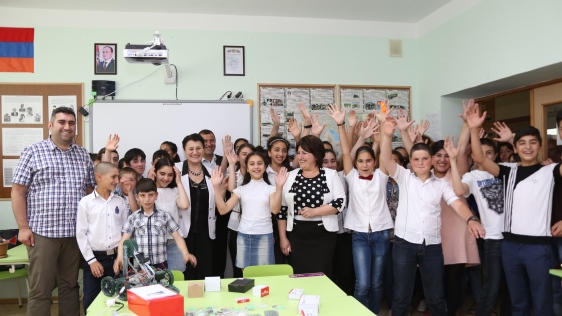 Ucom Supports the Opening of "Armath" Engineering Club-Laboratories also in Shirak and Aragatsotn Regions of Armenia
28/06/2016
On June 22-24 upon the initiative by the Union of Information Technology Enterprises (UITE) with the support of Ucom, 12 "Armath" engineering club-laboratories were opened in Shirak and Aragatsotn regions of Armenia. In Shirak region the laboratories operate in the "Family Center" of Gyumri, high schools number 2 and that of SEUA, in the school of Akhuryan, as well as in secondary schools of Yerazgavors, Bagravan, Nor Kyanq, Panik and in Artik's primary school. In Aragatsotn region, the labs operate in the secondary school of Kosh, Ashtarak's 5th school and high school of Talin.
The project carried out under the "Algorithm of Future" slogan, enables practical support for the integration of qualified IT-specialists into the Armenian and world markets, the exchange of the experience between them, and the attraction of large-scale investments into the IT-industry. It is noteworthy, that the software and assembly drawings of the "Armath" labs-developed equipment are open to public. The computer programs and systems are "armenianized" to the extension possible, while during the project implementation for the acquisition of the equipment and software, the priority is given to the local producers, the bright example of which serve the high-quality three-dimensional (3D) printers, mini-computers, robotics kits and other devices produced in Armenia.
Let us remind that according to the Memorandum of Cooperation signed between the Union of Information Technology Enterprises (UITE) and Ucom earlier this year, the latter invests to open around 70 more engineering club-laboratories named "Armath" in 9 regions of Armenia.
Speaking about the necessity of education in engineering, the Executive Director of UITE Karen Vardanyan notes: "By studying for only 3 or 4 years in "Armath" club-laboratories, the pupils acquire skills which can help them find work in the technological field". K. Vardanyan also thanked Ucom - the Armenian operator - for investing into the future of the Armenian youth and into the creation of technological Armenia.
The CEO of Ucom, Hayk Yesayan said, "If after a year or two the pupils are able to independently design a three-dimensional printer, and then send the product of their own work to the schools in the neighboring communities, they will achieve far more serious success in the future. These club-laboratories are the basis for their creative lives and creative mindset".
Although with the help of the supporting companies and Government of RA, UITE plans to establish "Armath" laboratories in all schools of RA, it also informs that the pupils of those schools with no such labs opened yet, who are interested in engineering, are welcome to study at the "Armath" club-laboratories of the adjacent schools and settlements.