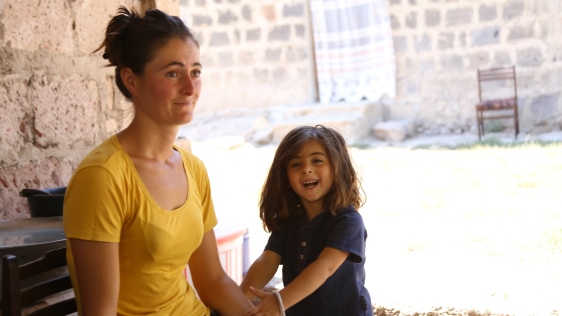 Thanks to "Let's Keep Children in Families" Program another Family Has a Chance for Stable Income Provision
29/08/2016
Thanks to "Let's Keep Children in Families" charity program implemented by the joint efforts of Ucom Foundation and World Vision Armenia this month as well the Ucom subscribers have helped one more family to create their source of sustainable income. This time the support was provided to the family of Harutyun and Mariam – the parents of three children, living in a village community of Aragatsotn region of Armenia.
12-year-old Gohar has health problems related to her head, and 6-year-old Babken has a nervous disorder. As a result of the harsh social conditions both kids are attending a boarding school. Harutyun has diabetes and is kept under constant medical supervision. The third child of the family, Eliza is now 4 years old. Two years ago Eliza's parents were forced to sell their calf to transfer Eliza, who was ill with pneumonia, to the hospital for treatment and to provide her with the required medication.
The family living in a rental house tries hard for a long time already to collect money for a domestic animal purchase, but the monthly allowance of 22000 AMD and the father's salary of 80000 AMD, which, by the way, does not happen in the winter months, is just enough to meet the extremely vital needs of the family.
The mother of children, living in a boarding school, brought them home on weekends and holidays only, though promising to keep them constantly with her after their graduation from school.
Within the scope of "Let's Keep Children in Families" program, taking into account the role of breeding for the improvement of the socio-economic conditions of the family, Harutyun was given a cow, hens and forage to resume his livestock activities, to solve the food problem to some extent and to generate some income.
The family parents are convinced that now they will be able to satisfy the most basic needs of their family as they due to this program they have already brought their children home.
"One of the most important components of this program is that every Ucom subscriber has a chance to take part in a charity and provide practical assistance to the extremely poor families, whose children are forced to grow up in public institutions. The donations of each month allow us to create a source of sustainable income for the parents and bring significant changes in the lives of the children", - said Ashot Barseghyan, the director of Ucom Foundation.
"The majority of children at child care and protection institutions appears there for the only reason – their parents are unable to satisfy the basic needs of their children. Within the frames of this program we support families to ensure their economic stability, due to which these children will continue to enjoy the parental love and care in their homes", - said Zhirair Edilian, the program director at World Vision Armenia.